1973 Radio Times Special Edition:
"HOW TO BUILD A DALEK"
In 1973, the RadioTimes published a special anniversary edition to celebrate 10 years of Doctor Who. This special edition included a set of plans / drawings / instructions and guidance on how to make your own dalek at home!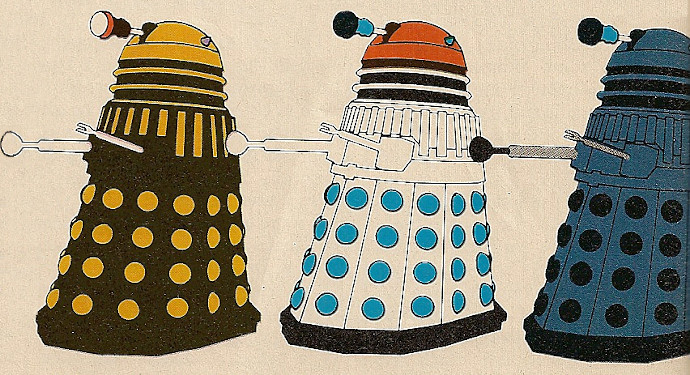 The drawing dimensions in these historic plans are known for being very inaccurate, so if you're planning on building an accurate / correct looking Dalek replica, please don't use them!
Instead, head off to www.ProjectDalek.co.uk for the most accurate plans on the internet.
Alternatively of course if you do wish to build a 1973-Radio-Times-looking-Dalek (charming in it's own right), then then these are the plans for you!
These plans result in a Dalek with an unusual shaped skirt, wider than normal, and with only space for one row of hemispheres on the side panels (opposed to the normal two rows). The shoulder section is too tall, the neck rods are spaced too far away from the neck bin mesh, plus other smaller differences. Not many of these Daleks are identical, this is due to certain parts of the plans being open to interpretation.
The Plans
These high-resolution colour scans are rehosted with kind permission of Peter Anghelides. He scanned them, and hosts them on his Blog, "The Red Lines Page".
The front page shows an artists illustration of Jon Pertwee as The Doctor, followed by 5 pages of instructions, methods, techniques and measurements to build your Dalek.
Whilst the designs / measurements aren't very good, a lot of the methods described are perfectly fine, and are still used by Dalek builders today. However, the estimated cost of £15.00 for materials is a bit off by todays prices!
These plans / designs are a nice little bit of Dr Who / Dalek history... There may be a few 40 year old fan-built Daleks out there built to these plans...
-If you ever see one that looks a bit of an odd shape, chances are it may be a RadioTimes Dalek!
Example Radio Times Daleks:
Raymond Hyde (Barnsley) shared this image of his Radio Times Dalek. He says it was faithfully built to the plans, which are open to interpretation - this is to be considered a "true" RT Dalek: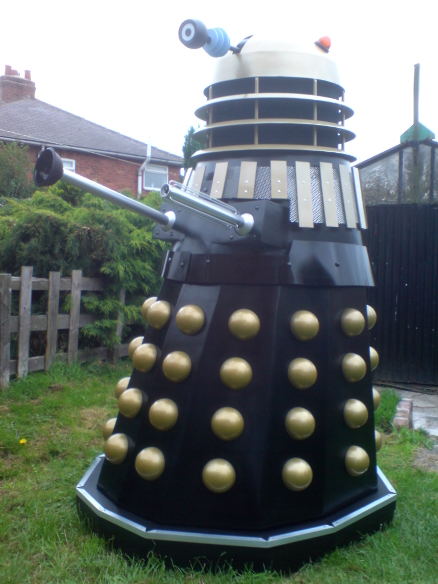 Image: Raymond Hyde
This Dalek also includes marbles for dome rotation - just as the original plans suggest: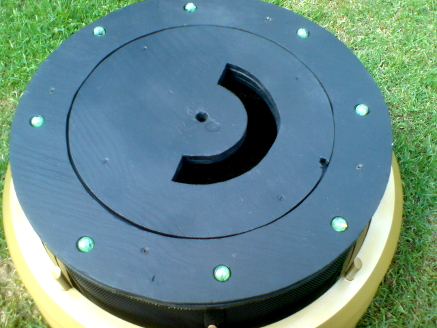 Image: Raymond Hyde
Raymond points out that other RadioTimes builds have appeared with slightly different shapes due to the instructions being interpreted differently, such as this pair from Bolton: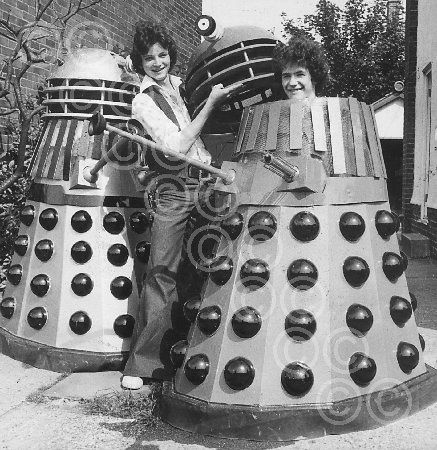 Image: newsprints
And this one built by Sheyne Lucock and richard Nunes in 1975, note the diference in the skirt spape due to different interpretations of the plans: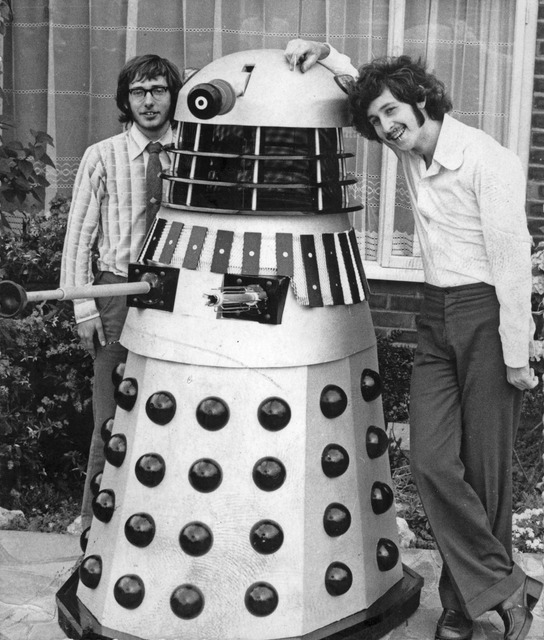 Image: The Guardian
I believe this to be the same Dalek as above: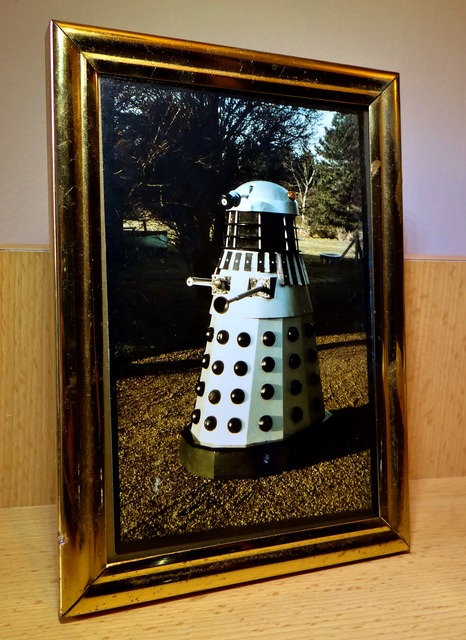 Image: The Guardian
This Radio times Dalek was found on a TARDIS building forum, click the image to see the TARDIS too: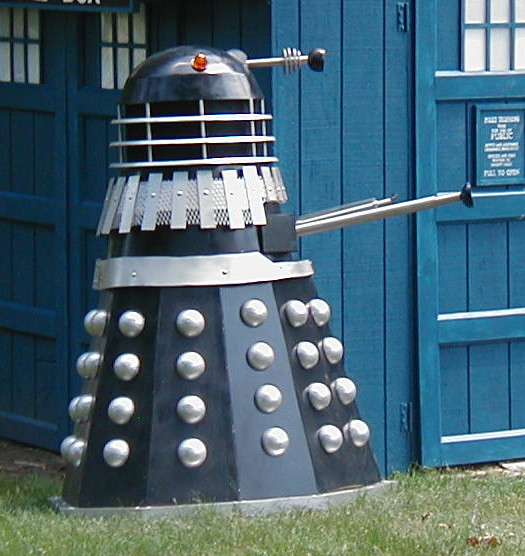 Image: tardisbuilders.com
If anyone reading this has any photos of a RadioTimes Dalek you've built or seen, please send me a copy to publish here! Do see my own Dalek Building Project here using accurate plans.
This Odd Shaped Skirt Became The Most Infamous Dalek!
1975 saw the first appearance of Davros played by Michael Wisher in Genesis Of The Daleks.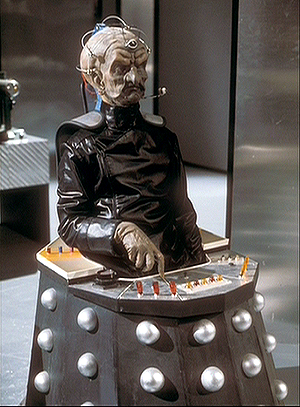 Image: Wikipedia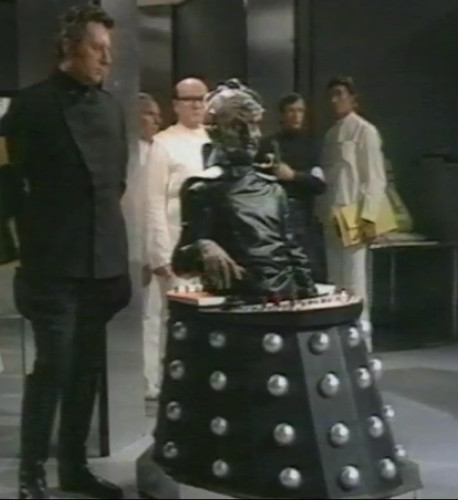 Image: Rather iffy screenshot from Genesis Of The Daleks
Thanks to people that I met at BritSciFi2015, I learnt that it is believed that the original Davros Skirt (used throuout most of the classic series) was in fact a slightly modified RadioTimes skirt!
The Davros skirt was a big departure from the traditional Dalek shape, with panels of more even sizes, meaning the only panel with two rows of hemispheres was at the rear. The skirt height was also less than a standard Dalek. The hemispheres are also smaller than the standard 4" / 100mm, being 3" / 76mm diameter.
The modifications from the Radio Times plans being the angle of the rear of the skirt, and also the height being cut down.
10th Anniversary Revisited By Peter Capaldi - 41 Years Later
Peter Capaldi was reunited in 2014 with a copy of this 10th anniversary special edition of the RadioTimes for a photo-shoot. The article refers to how as a youth he loved reading it so much, he wrote a letter to the RadioTimes!
See here for the article: RadioTimes website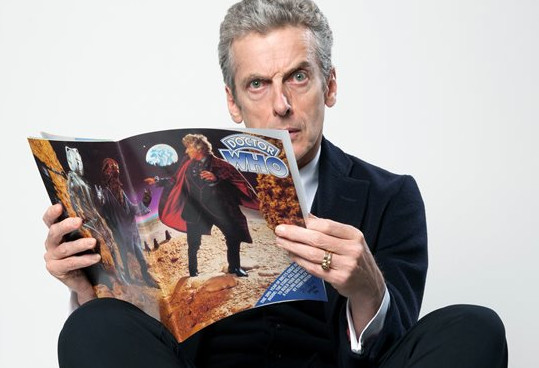 Image: RadioTimes
Other Online Sources
Black and white scans of another booklet also exist here on Tom Rathborne's website.